Your First Visit
Welcome to Sather Family Dental! We are excited you are considering our dental office to provide your dental care. There is nothing we enjoy more than meeting new patients and making them feel right at home! We hope this page will give you some insight on what to expect at your initial new patient appointment and help put your mind at ease. Please do not hesitate to call us with any questions you may have.
If you're ready to schedule your first visit to Sather Family Dental, please call us at 715-859-2202 or send us an email using our online contact form.
New Patient Paperwork
Before your first appointment, we need to gather some essential information about you that will help us understand what your oral health needs are. For your convenience, we include our patient forms online so you may complete them before your arrival and bring them in to your first appointment. If you prefer to complete them upon arrival, plan to arrive about 10 minutes earlier than your scheduled appointment to complete them here in our dental office.
Dental Insurance
I
f you have dental insurance, feel free to provide us with this information before your first appointment. You can give it to us over the phone or take a picture of your insurance card and email it to us at office@satherfamilydental.com. When we have your insurance information beforehand, we can verify your dental insurance benefits so that when you are here, we can provide you with accurate estimates for any necessary treatment. Providing the insurance information before your appointment is not required, so don't worry if you would rather bring it along to your first appointment. We want your first visit to be as simple and easy as possible!
What to Bring to Your First Visit
Please bring any insurance cards and payment methods you plan to use.
Release of Records
If you are a new patient transferring in from another dental office, we welcome the transfer of records from your prior dentist; however, we don't require it. Your prior dentist will probably have a Release of Records form for you to complete before they can release your records to us or you can sign a Release of Records form at our office and we can send it for you.
Your First Appointment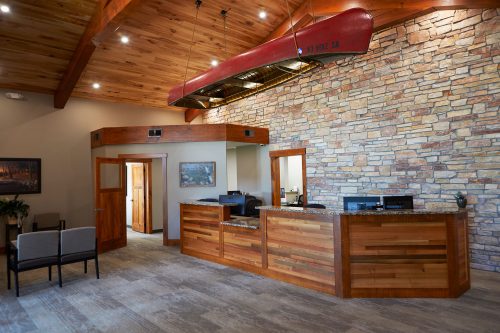 When you arrive at Sather Family Dental, you can expect to be welcomed warmly. You will meet someone from our front desk team who will check you in and gather your information. We have complimentary bottles of water or coffee just for you! There is also a TV and a variety of magazines in the lobby.
One of our awesome hygienists or assistance, will welcome you back to your room and get you settled comfortably. They will first talk to you about your oral health habits and take any necessary x-rays.
Dr. Sather or Dr. Reisner will come in and talk to you about your dental history and any concerns you may have. They will perform a comprehensive exam and talk to you about any areas of concern. If you have immediate concerns or pain you would like addressed in your first visit, please let us know when scheduling your new patient appointment.
Developing a Personalized Treatment Plan
Dr. Sather or Dr. Reisner will discuss any findings with you, and if he finds that you need any dental work, he will spend time with you to explain what the problem is and how addressing it early will benefit you. We'll personalize a treatment plan that takes all your unique needs into account and helps you achieve your oral health goals.
Before you leave, you will check out with someone from our front desk team, who will take any payment due (if any), review your insurance and financial needs, and help you schedule future appointments as necessary.
Please contact us today to schedule your appointment.